About Us

Maple Bear is an immersion school that teaches students through hands on, play based learning. At Maple Bear Global Schools we believe that nothing is more important than the education of our children.
The Maple Bear mission is to deliver a student-focused learning system in a safe, secure and stimulating environment that prepares students for success at the post-secondary level and that instills a passion for life-long learning.
All campuses of Maple Bear Korea are operated by the Canadian education system developed by Canadian educators. Through Maple Bear education, students not only learn English naturally, but also improve their communication and critical thinking skills, cooperative spirit, and creativity. Maple Bear is very proud of the results of this education.
To the students and parents who are receiving Maple Bear education, we have an infinite sense of responsibility and mission, and we are delivering a high-quality education that meets the expectations.
Welcome to Maplebear
Why maple bear

Maple Bear's program consists of proven Canadian-style immersion English education.
Maple Bear Canada's local faculty updates the curriculum, supplements educational materials, and develops better teaching and operation methods. They are all professional educators with years of experience in the Canadian public education system.
Our Branches

Maple Bear has campuses all over the world and a total of 10 campuses across Korea. They are in Seoul, Gyeonggi, Daegu, Daejon and Incheon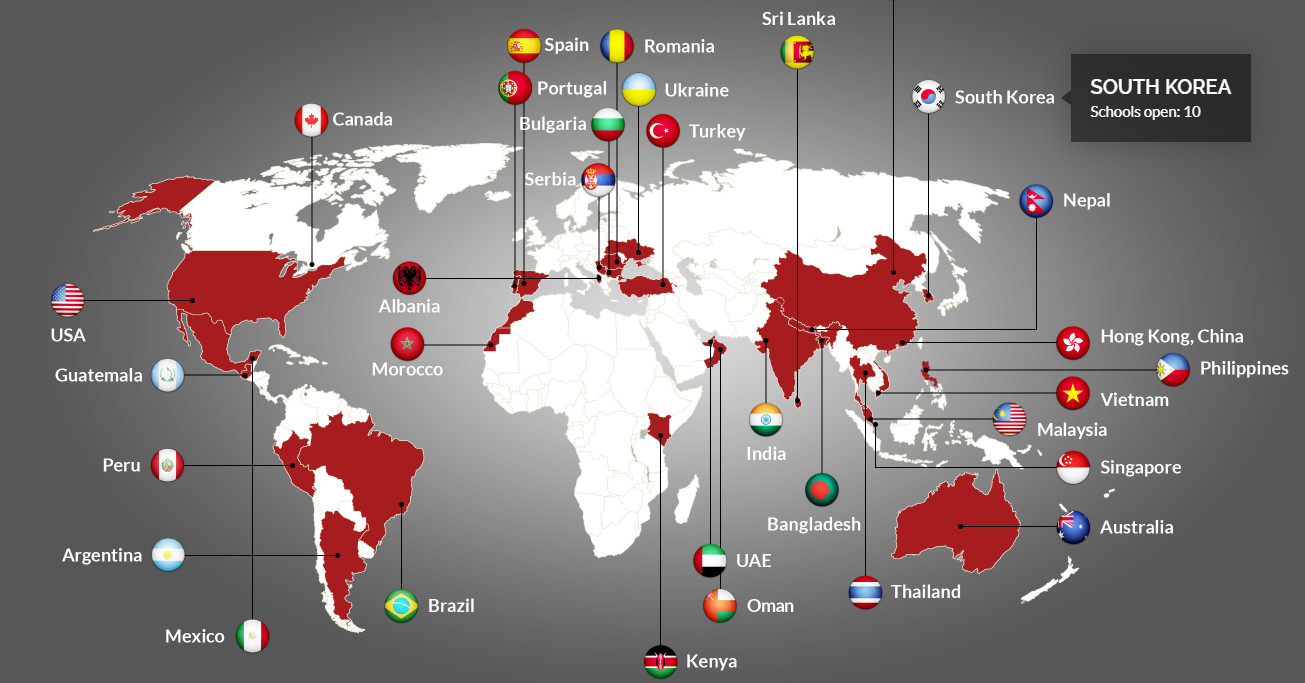 Curriculum/Programs

Kindergarten
Students grow the most rapidly from birth to age 5, and experiences during this period have a profound impact on their future. Students should be supported from the beginning of life to reach their full potential.
The Maple Bear Toddler Program provides a high standard of education to ensure that students receive the best possible education during this critical period.
Elementary
We educate students to develop the basics of literacy, numbers, technology, analysis, problem-solving, information processing, and computer literacy. In addition to these skills, we train our students to be successful on today's world stage by developing their critical and creative thinking skills.
Recruiting System

We solely focus on securing the best instructors through our extensive screening, interview, and training process. All candidates are thoroughly screened based on their experiences and qualifications. Candidates who passed the interview and are accepted undertake a training program in order to educate themselves with our teaching methodology.
Salary & Benefits

We provide a combination of benefits such as housing, one-way flight tickets, and the four major insurances, depending on the role and experience of the teacher. Details of each role-specific package are provided to candidates invited to interview.
We provide initial training for new teachers and ongoing support and offer opportunities for career advancement
More Information
Company Type
School/Education
Location
Korea, Republic of > Gyeonggi-do > Gimpo-si
Are you interested in this school? Using TheWorknPlay Matchup Service, we will help prepare you step-by-step on how to get accepted into this school.
WNP Match-Up Team Link
Location
South Korea, Gyeonggi-do, Gimpo-si, 김포한강2로