Last Modified :
Job Details
Job Type
Industry
Education > Language center
Conversational Speaking
Listening
Reading
Writing
Student Type
Education Level
Bachelor's Degree
Career Level
Entry Level
Start Date
English
Native
Languages
Location
Korea, Republic of > Gyeongsangnam-do > Gimhae-si
Job Description
1. Role and responsibilities.
You will be responsible for;
• Teach English to Elementary through high school students storytelling, phonics, speaking, reading, listening, writing, and conversational English.
• Create fun and engaging supplementary activities for students
• Attend to other duties as a teacher.
2. Candidate Qualifications:
• Be eligible for an E-2 visa or have an F-visa.
• Have an apostilled CBC and diploma ready.
• Have a clean self-medical health check.
3. Working Conditions
• Working Hours: 1:30-8:30/1:00-8:00 M-F
• Teaching Hours: 25-30 hours a week
Salary
From 2.2 Million KRW (Negotiable Upon Experience)
Benefits
•Insured with the 4 National Insurances.
•Severance: upon completion of a one-year contract, severance pay which is equal to one month's salary is paid to the teacher.
•Vacation: 10 days plus National Korean Holidays
•Airfare: One-way
Housing
Housing Allowance Provided
Questions
Preliminary questions for the school to gain more information about the applicant.
Where were you born and raised?
Do you have any tattoos or piercings? If so, are they able to be covered or removed at work?
Do you have any health issues your future employer needs to accommodate?
How to apply
If you have any additional questions or concerns, please send a message directly to the school or recruiter.
Cambridge English Academy
About Us Cambridge English Academy offers American English classes, group classes, discussions, and presentation classes based on the International Common English Evaluation Standard CEFR. Cambridge English Language Institute teaches children to have confidence in Engli...
See more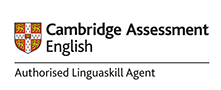 Company Type
School/Education
Academic Systems
CEFR International Language Assessment Standards.