Date Posted :
Job Details
Visa Type
Education Level
Bachelor's Degree
Career Level
Experienced
English
Native
Languages
Specialized Requirements for Candidates
Teacher's License
Job Type
Industry
Education > International school
Language Arts
Math
Science
Social Studies
Speaking
Student Type
Job Start Time
Start Date
Job Description
BC Collegiate, a WASC accredited school, is looking for dedicated and qualified teacher who is passionate about teaching Elementary to middle school students.
1. Role & Responsibilities
Designing, developing, and delivering quality lesson plans and curricula that adhere to school guidelines.
Drawing up suitable assessments and delivering helpful feedback to students, parents, and other teachers.
Establishing classroom rules and regulations and ensuring that all students understand what is expected of them.
Instruct students on how to use the English language correctly through reading, writing and analyzing of literature and informative text.
Assist students develop composition and critical analysis skills.
Providing extra resources, support, and interventions for students who are struggling.
Grading papers, updating record, and writing 4 quarterly reports
Creating an environment where students feel comfortable asking questions and voicing concerns.
Participating in other school activities and regularly communicating with parents.
2. Candidate Qualifications
Visa type: F-2, F-4, F-5, and F-6 Visa Holders
Degree in English or a related discipline.
A relevant teaching certificate or license.
Dedication, patience, and the ability to remain calm in tense situations.
A passion for teaching English, and a commitment to continuing education
Strong communication, interpersonal, and problem-solving skills
3. Job Overview
Working Hours: Full Time (M-F: 8:00 AM-4:00 PM)
4. Salary Negotiable, based on experience and qualifications
5. Benefits Insurance:
50% of all 4 major insurance paid
Vacation: National holidays in Korea, Winter, Spring, Summer Vacation
Housing: Provided housing or housing allowance
Severance: 1 month severance pay at the completion of contract
6. Documents to submit
Cover Letter
Resume (with photo)
*Please be advised that should you be interviewed and subsequently hired, you will need to provide the following in accordance with Korean law.
Photocopy of passport / Original copy of Univ. diploma / Original copy of teaching certificate / Criminal background check
Website: https://bccollegiate.modoo.at
Benefits
Insurance, Severance, Paid vacation, Lunch provided, Teacher training etc.
Housing
Housing Provided, Housing Allowance Provided
Location
58 Banpo-daero 4-gil, Seocho-gu, Seoul, South Korea
How to apply
or
If you have any additional questions or concerns, please send a message directly to the school or recruiter.
BC Collegiate HQ K to 8
BC Collegiate, an internationally(WASC) accredited school offering K-8. The school was founded in 2011 nearby Seoul Art Center.(Headquarter)...
See more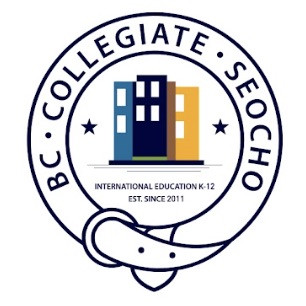 Company Type
School/Education
Academic Systems
International Educaton
Founded
2011
Employees
11 - 50