Date Posted :
Job Details
Visa Type
Education Level
Bachelor's Degree
Career Level
Experienced
English
Native
Languages
Specialized Requirements for Candidates
Certified teacher preferred
Job Type
Industry
Education > International school
Art
English
Student Type
Job Start Time
Start Date
Job Description
BC Collegiate is looking for Elementary and Middle School Art Teacher. We need an art teacher who can provide learning activities appropriate to the students' age to develop an understanding and appreciation of art in each student.
Main Job Duties and Responsibilities
plan and prepare a program of study to meet the needs and interests of the students (Grade K-8) and develop age-appropriate instructional strategies to achieve the art curriculum goals
establish and communicate clear learning objectives
demonstrate and assist students to use different techniques and media to develop art works aligned to their artistic abilities
provide accurate and timely formative assessment and feedback to students, and maintain assessment records, including tracking and reporting of learner progress in line with school policy
monitor and maintain classroom inventory
run art-related after school clubs and organise Art Expo
Working Conditions
Monday – Friday 8:00 to 5:00
50% of all 4 major insurance paid
1 month Severance Pay at completion of contract
Requirements
Must currently be in Korea
F series visa or Korean Citizen
English Requirement: Native Speaker
All paperwork required to teach in Korea
At least a Bachelor`s with a teaching certificate or Master's degree in the Art Education
Familiar with 3D printing and Animation preferred
Documents to submit
Cover Letter
Resume (with photo)
*Please be advised that should you be interviewed and subsequently hired, you will need to provide the following in accordance with Korean law.
Photocopy of passport
Original copy of Univ. diploma
Original copy of teaching certificate
Criminal background check
Location
58 Banpo-daero 4-gil, Seocho 3(sam)-dong, Seocho-gu, Seoul, South Korea 58
How to apply
or
If you have any additional questions or concerns, please send a message directly to the school or recruiter.
BC Collegiate HQ K to 8
BC Collegiate, an internationally(WASC) accredited school offering K-8. The school was founded in 2011 nearby Seoul Art Center.(Headquarter)...
See more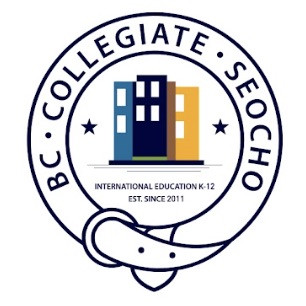 Company Type
School/Education
Academic Systems
International Educaton
Founded
2011
Employees
11 - 50