Date Posted :
Job Details
Visa Type
Education Level
Bachelor's Degree
Career Level
Experienced
English
Native
Languages
Job Type
Industry
Education > International school
English
ESL
Language Arts
Literature
Speaking
Librarian
Library
Student Type
Job Start Time
Start Date
Job Description
BC Collegiate, an internationally accredited school, is looking for a school librarian who is passionate about literature, promoting interest in reading and developing skills necessary to use resources effectively.
1. Main Role & Responsibilities
• To have overall responsibility for the management of the school library
• To select, acquire, purchase, organise, advise on and promote learning resources in all formats which support the curriculum and learning and teaching in consultation with school management and other teaching staff.
• To index, catalogue and classify learning resources in the library resource centre and develop and maintain accurate and reliable catalogue and lending systems.
• To collaborate with teaching staff in the library's planning, development, delivery and evaluation of relevant learning and study skills programmes.
• To run after-school book club twice a week. To promote the use of the library resource centre to the school community and foster an atmosphere conducive to positive learning experiences for users of the service. This will include ensuring a high standard of display and promotional material is available.
• Organizing library-related events such as Book Fairs and Reading Week
• Other duties: Recess supervision, bus duty, participation in school-wide events 2. Candidate Qualifications
• Foreigners (F-2, F-4, F-5, and F-6 Visa Holders) and Korean Citizens
• A relevant librarian certificate preferred • Strong communication, interpersonal, and problem-solving skills 3. Job Overview
• Start Date: ASAP
• Working Hours: Full Time (M-F: 8:00 AM-5:00 PM) 4. Salary Negotiable, based on experience and qualifications 5. Benefits Insurance: 50% of all four major insurance paid Vacation: National holidays in Korea, Winter, Spring, and Summer Vacation Documents to submit
• Cover Letter
• Resume (with photo)
*Please be advised that should you be interviewed and subsequently hired, you will need to provide the following in accordance with Korean law.
• Photocopy of passport
• Original copy of Univ. diploma
• Original copy of teaching certificate
• Criminal background check Submit to: recruitment@bcacanada.org
Location
BC Collegiate, 58 Banpo-daero 4-gil, Seocho-gu, Seoul, South Korea
How to apply
or
If you have any additional questions or concerns, please send a message directly to the school or recruiter.
BC Collegiate HQ K to 8
BC Collegiate, an internationally(WASC) accredited school offering K-8. The school was founded in 2011 nearby Seoul Art Center.(Headquarter)...
See more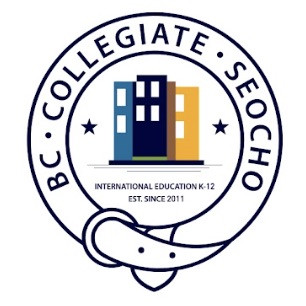 Company Type
School/Education
Academic Systems
International Educaton
Founded
2011
Employees
11 - 50