Last Modified :
Job Details
Visa Type
Education Level
Bachelor's Degree
Career Level
Entry Level
English
Native
Languages
Job Type
Industry
Education > Language center
Reading
Writing
Speaking
Listening
ELL
English
ESL
Student Type
Job Start Time
Afternoon
Monday - Friday, 1:00 P.M. - 8:00 P.M.
Start Date
Job Description
1. Roles and Responsibilities
You will be a teacher for our elementary age students. Follow the premade curriculum, but also use your creativity and imagination to make the classes more fun and enjoyable for the students.
You will be responsible for the following:
• Conduct classes as scheduled
• Prepare materials for classes
• Student assessment and reporting
• Communicate and cooperate with the classroom teacher, co-teacher, and administration
• Attend meetings, workshops, and special events required by the institute.
2. Candidate Qualifications:
• Be eligible for an E-2 visa or have an F-visa.
• Have an apostilled CBC and diploma ready.
• Have a clean self-medical health check.

3. Working Conditions
Working hours are described as the time you need to be present at the school. Teaching hours are the active amount of time you will be conducting classes or activities.
• Working Hours: Monday - Friday, 1:00 P.M. - 9:00 P.M
• Teaching Hours: 30 hours per week
• Class Size: 12 students per class
• Break Time: 12:30 P.M. - 1:00 P.M.
• Teacher Training: Provided
• Teaching Staff: 4 Native English Teachers, 4 Korean Teachers
Salary
From 2.4 Million KRW (negotiable upon experience)
Benefits
4 insurances
Severance paid upon the completion of a one year contract
Vacation: 10 days and national holidays
Airfare: Oneway
Questions
Preliminary questions for the school to gain more information about the applicant.
Where were you born and raised?
Do you have any tattoos or piercings? If so, are they able to be covered or removed at work?
Do you have any health issues your future employer needs to accomodate?
Location
12F, 2575 Dalgubeol-daero, Suseong-gu, Daegu, South Korea
How to apply
If you have any additional questions or concerns, please send a message directly to the school or recruiter.
DYB Choisun Language Institute
DO YOUR BEST (DYB) I like the word best. It is the most oriental language, but it can also be used in the global age. Teaching children is a learning process. Even when I see my parents, I always wake them up. DYB Choisun Language Institute, which teaches while learning...
See more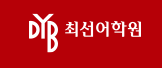 Company Type
School/Education
Academic Systems
Language Center
Employees
1 - 10