Last Modified :
Job Details
Education Level
Bachelor's Degree
Career Level
Entry Level
English
Native
Languages
Job Type
Industry
Education > Other
ESL Starter
TEFL UK
Matching
Student Type
Pre-K & Kindergarten
Elementary
Middle
High
Start Date
Location
Korea, Republic of
Job Description
Embark Recruiting is the main recruiting partner for the WorknPlay. We are Korea's leading native teacher recruitment agency and have been operating since 2003. We have successfully helped recruit more than 10,000 teachers who love, care, and share different cultures with reputable schools.
This is the collaborative recruitment job post between Embark Recruiting and ESL Starter/TEFL UK. If you were directed here please follow the instructions below to get started.
Application procedure:
Apply for Embark Recruiting Job Below

Fill out the online resume with as much detailed information as possible.

Upload any lesson plans or teaching materials you have

Submit the application

One of Embark Recruiting's recruitment team will contact you to set up a consultation session to find recommended positions.
Please make sure to fill out as much information as possible. The more information and resources you provide the better chance we have of finding your desired location, salary preference, and student age.
We look forward to helping you reach your goal of teaching in Korea!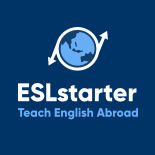 Benefits
• Insured with the 4 National Insurances.
• Severance: upon completion of a one-year contract, severance pay which is equal to one month's salary is paid to the teacher.
• Vacation: 10 days plus National Korean Holidays
•Airfare: One-Way
Questions
Preliminary questions for the school to gain more information about the applicant.
Where were you born and raised?
Please rank the following items(1-4) based on importance: salary, location, teaching age, and working hours
How to apply
If you have any additional questions or concerns, please send a message directly to the school or recruiter.
Embark Recruiting
Welcome Embark Recruiting As a teacher, it is amazing experiencing different cultures through global teaching and travelling. Embark Recruiting started in 2003 as a Native English Teacher recruitment agency. We provide information about teaching and working in Korea. As...
See more